Shopping Cart
Your Cart is Empty
Thank you for your business!
You should be receiving an order confirmation from Paypal shortly.
Exit Shopping Cart
The WheelAir system is the first temperature control system designed to fit any wheelchair. It disperses air evenly across your back to lower your core temperature, keeping the skin dry and clean. This helps to avoid symptoms caused by overheating and over sweating, allowing you to stay comfortable and in control.
A canvas backrest but taken to the next level, combining function and effortlessly stylish (and silent) design. The WheelAir backrest combines carefully selected fabric and foams to enhance your back support and comfort. Available in 6 widths to fit all manual or power chairs with a tension adjustable strap system or rigid back with a gap between the seat pan and the seat back.
The WheelAir is operated by a rechargeable battery that will last between 8 and 20 hours per charge depending on settings selected. Tests show that the temperature on the back is able to be lowered by 8 degrees Celsius within 30 minutes of use.
Take back your summer, with the innovative WheelAir. Available now in 6 sizes starting at just 11" wide.
Cushion covers are removable and machine washable.
See pictures below to see the WheelAir on our daughters Mobility Plus Elite with Tarta EMYS Deep Contour backrest.
Research demonstrates the necessity to keep your skin dry and clean, and we finally created a tool to help you do this. WheelAir reduces the temperature of the back 8˚C in 30 minutes and lowers relative humidity.
Help your sweat evaporate quicker with WheelAir. WheelAir gently blows the air from around you onto your back, lowering the relative humidity to accelerate the sweating process and keep your clothing dry.
Take control of your body temperature. Heat and moisture is wicked away from your body, while we reduce your back - and body - temperature, leaving you cool and refreshed.
Attaching the WheelAir to a sling back (click picture for GIF)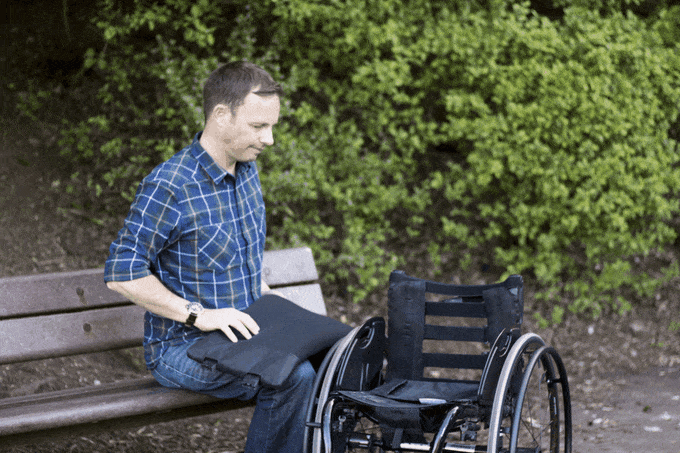 /